AC Mains Visual Display
AC Mains Visual Display
Need Volume Discounts? Deals are specially designed for you. Click here
Need help with your idea. Provide us more details Click here
Warehouse Details - -


Specification
Description
This AC Mains Visual Display gadget gives a visual indication of AC mains voltage from 160 volts to 270 volts in steps of 10 volts. There are twelve LEDs numbered LED1 to LED12 to indicate the voltage level. When the input voltage reaches 270 volts, all the LEDs glow.  A constant voltage is available to push electric charge through the circuit. This Electronic Power is an electric current that periodically reverses its direction, in contrast to a direct current that only flows in a single direction which cannot change sporadically.
This power electronics device for input AC mains voltage of fewer than 160 volts, all the LEDs remain off. LED1 glows when the voltage reaches 160 volts, LED2 glows when the voltage reaches 170 volts, and so on. The number of LEDs that glow keeps increasing with every additional 10 volts. 
Block Diagram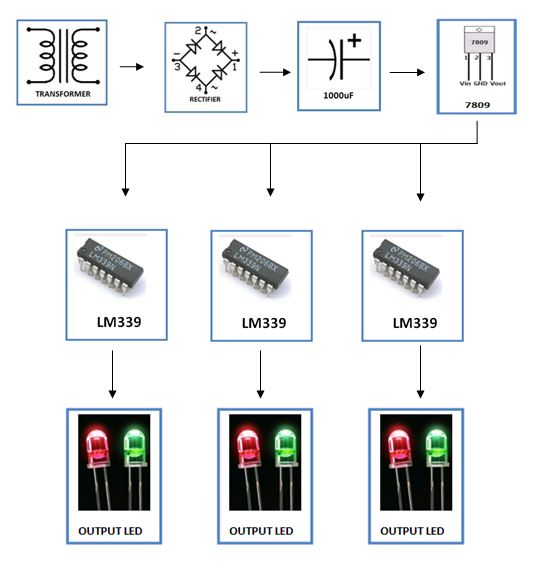 Physical Attributes
Dimensions (cm) L x W x H : 20 x 15 x 5
Weight (gm): 200
Simply marvelous!
My first impression of the Kit was how neat everything was packaged. As a developer, I am known for being "disorderly organized." Seeing the kit when I first opened it was a breath of fresh air. Simply marvelous!
Nice
Neatly packaged. All working parts. Exactly as Advertised.