Adjustable Timer Circuit
Adjustable Timer Circuit
Need Volume Discounts? Deals are specially designed for you. Click here
Need help with your idea. Provide us more details Click here
Warehouse Details - -


Specification
Description
Monostable multivibrator (MMV) mode of 555 timer IC is also called Single-shot mode. As the name suggests, only one state is stable and the other one is unstable or quasi-stable. The 
Adjustable Timer Circuit
555 timer IC remains in a Stable state until the external triggering is applied. External triggering is required for the transition from a stable to an unstable state.
555 IC Adjustable Timer Circuit
 is automatically switched back to a stable state after some time, this time, for which the 555 stays in the quasi-stable state, is determined by the time constant of the RC network in the circuit. This external triggering is given by connecting the Trigger PIN 2 to the Ground using a PUSH button. Before going through below, you should know about 555 timer IC and its PINs, here is a short description of its PINs.
Block Diagram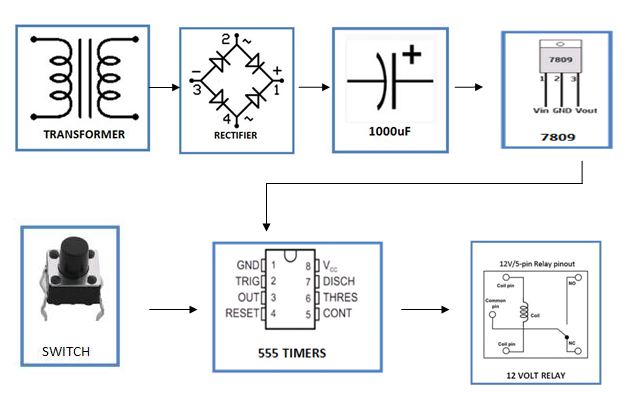 Physical Attributes
Dimensions (cm) L x W x H : 20 x 15 x 5
Weight (gm): 200
Product Video
outstandig
Two words : Extremely Enabling!
Engineer
Great project for engineering with a budding interest in electronics.
project
This project scores excellent in my opinion based on several areas: 1) content; 2) information; and 3) quality.