Blown Fuse Indicator
Blown Fuse Indicator
Need Volume Discounts? Deals are specially designed for you. Click here
Need help with your idea. Provide us more details Click here
Warehouse Details
Specification
Description
In the kit Blown Fuse Indicator is a common device that is used in every electrical or electronic equipment or device. Fuse is a protective element of every device which protects the electrical equipment against high voltage. When equipment indicates no power, the cause may be just a blown fuse. Here is a circuit that shows the condition of the fuse through LEDs. This compact circuit is very useful and reliable.

Power Electronic Blown Fuse uses very few components. Under normal conditions (when the fuse is alright), green LED glow. Whereas the red LED remains off. When the fuse blows off, the supply to green LED gets blocked, and because only one LED is in the circuit, the red LED glows. In case of power failure, both LEDs remain 'off'.
This Blown Fuse Indicator circuit can be easily modified to produce a siren in fuse-blown conditions. An optocoupler (MCT2E) is used to trigger the siren. When the fuse blows, a red LED glows. Simultaneously it switches 'on the siren. Two LEDs of red and green color can be used. Similarly, two diodes are used to increase the voltage drop, since the two LEDs may produce different voltage drops.
Block Diagram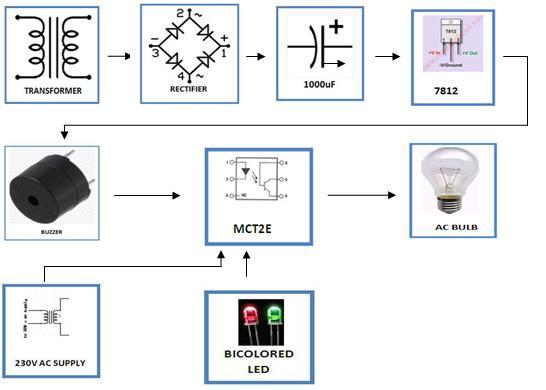 Physical Attributes
Dimensions (cm) L x W x H : 20 x 15 x 5
Weight (gm): 200
Product Video
VERY GOOD
PROJECT IS PERFECT WORKING AND GOOD
Excellent
Project is working excellent
Best
Best in the online market
Five star
My final review of this product is a solid 5 Stars! This kit is well researched, well made and overall amazing for the price!! I would recommend for others to buy and I would even buy it again.