Electronic alarm for cash box, lockers
Electronic alarm for cash box, lockers
Need Volume Discounts? Deals are specially designed for you. Click here
Need help with your idea. Provide us more details Click here
Warehouse Details
Specification
Description
The Cash Box Guard is very useful. The cash box guard circuit here is a smart security circuit for your cash box that thwarts the theft attempt by activating an emergency beeper.

This Cash box guard circuit is built around IC CD4060 IC, which has an inbuilt oscillator and divider. The basic oscillator is configured by a simple resistor-capacitor (R-C) network. IC CD4060 divides this oscillator frequency into binary divisions, which are available as outputs. In light, reset pin 12 of IC remains low, which enables the oscillator built around IC. However, in the dark, it makes all the outputs low.
This Electronic Cash box guard circuit also stops oscillations of the internal oscillator. The working of the circuit is simple. If the cash box is closed, the interior will be dark. Hence in the dark, the light-dependent resistor (LDR) resets IC and it stops oscillating and counting. At the same time, pins 13 and 14 of IC go low. So neither the piezo buzzer sounds nor the relay energizes, indicating that the cash box is closed.


Block Diagram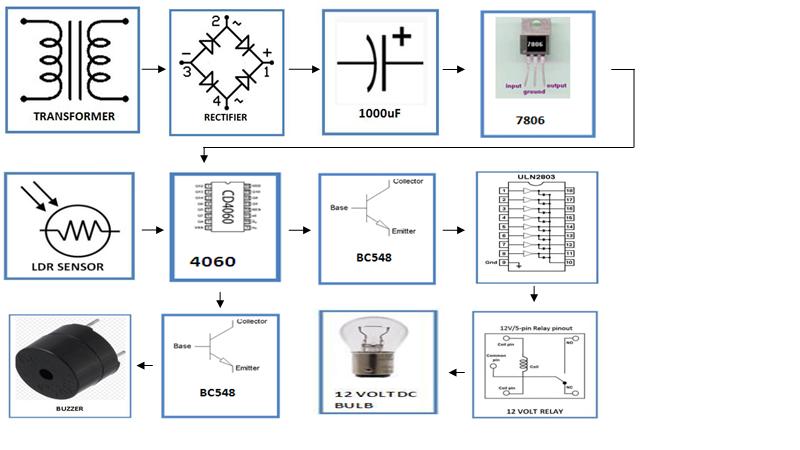 Physical Attributes
Dimensions (cm) L x W x H : 20 x 15 x 5
Weight (gm): 200
Product Video
its Amazing
Very good & Amazing working project & kit
Great
The packaging is great and Coustomer support is also fantastic.
Well !
kit working on the Lab at Home Kit.