Electronic Cricket Match
Electronic Cricket Match
Need Volume Discounts? Deals are specially designed for you. Click here
Need help with your idea. Provide us more details Click here
Warehouse Details - -


Specification
Description
Children would love this, Electronic Cricket Match Kit that allows them to play with their friends at home. This kit has LEDs that indicate the various state of the cricket match, such as sixes, runout, catch, and more.
The 
Counter Circuits Cricket Match Kit
uses two ICs, one in the stable mode (LM555) and the second in the display driver model (CD4017). LM555 is wired as an Astable Multivibrator. Output from LM555 IC passes into the input of CD4017 IC this is the popular Johnson Decade counter CD4017. It has 10 outputs of these 8 outputs are used. Output 9 (pin9) is tied to the reset pin 15 to repeat the cycle. In this kit when the input pin 14 of IC CD4017 gets low to high pluses, its output turns high one by one.
When the Push Switch S1 is pressed momentarily, the Astable operates and all the LEDs run very fast sequentially. When S1 is released, any one of the LED stands lit, which indicates the status of the match. For example, if LED D7 remains lit, the
Electronic
Gaming
Kit
indicates Sixes and if LED 8 remains lit, it indicates Catch out.

Block Diagram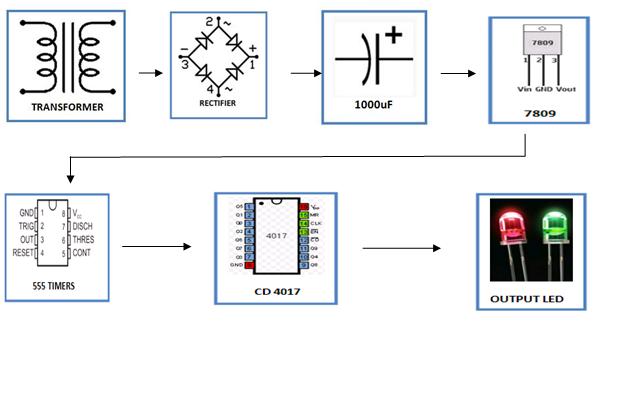 Physical Attributes
Dimensions (cm) L x W x H : 20 x 15 x 5
Weight (gm): 200
Product Video
Good Purchase
All products came with good design. We are enjoying the kits.
excellennt
Excellent project. A must buy starter for 1st year inerest in electric circuits.