Electronic Eye Circuits
Electronic Eye Circuits
Need Volume Discounts? Deals are specially designed for you. Click here
Need help with your idea. Provide us more details Click here
Warehouse Details - -


Specification
Description
In the modern age of
electronic equipment
, a magic eye, or electronic eye, is a popular device. Fitting it on the bottom of the door entrance will allow it to function as an automatic guest indicator at the door. It is not necessary to install a call bell once it is installed at the door.
Electronic Eye Circuits
can also be used at homes or in banks as burglar alarms.
Fix the LDR to the wooden door or a locker to be protected in such a manner that when anybody tries to open it, a shadow falls on the LDR and the circuit gets activated and produces a pleasant sound through the buzzer. This
electronic eye circuit
uses NOT gate IC CD 4049. CD 4049 contains six independent NOT gates in one package; we have used one only.
Block Diagram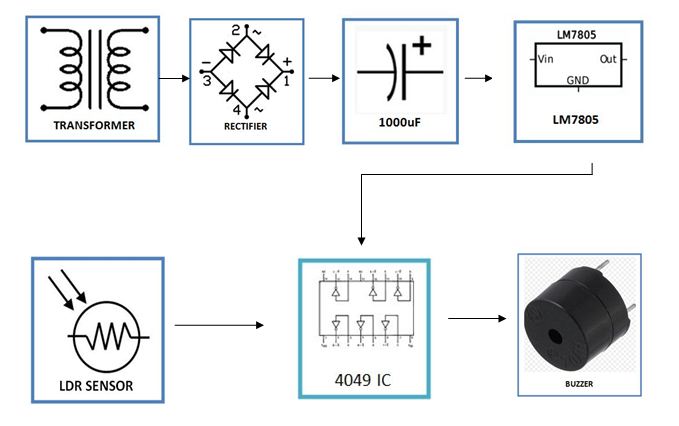 Physical Attributes
Dimensions (cm) L x W x H : 20 x 15 x 5
Weight (gm): 200
Product Video
necessary objects
It has all the necessary objects to use it, it is very complete.
Thank you
This is a good kit for beginners to get into the world of the Electronic Engineer.
Best purchase EVER!
It was cheap (I bought it cheaper, look at the historical price).
Help
I like this project its a good idea.
yeah i did this project it works
if some one needs help i can