h-bridge with pwm using 555 timer
h-bridge with pwm using 555 timer
Need Volume Discounts? Deals are specially designed for you. Click here
Need help with your idea. Provide us more details Click here
Warehouse Details
Specification
Description
This H-Bridge with PWM uses 555 Timer IC Pulse width modulation (PWM) it means generating an analog signal from a digital signal. A PWM output consists of a series of alternating high and low signals, with them on and off. The speed of a DC motor depends on the voltage applied across its terminals and the direction depends on the polarity of the applied voltage. Herewith the help of two 555 timer ICs, we are controlling the speed as well as the direction of the dc motor using the above principle.

H-Bridge with PWM using 555 Timer IC are two 555 timer ICs used. Both IC used as astable multivibrator mode. H-bridge circuits are used to drive motors since they can be varying direction as well as speed. A simply H-bridge schematic circuit drives a motor clockwise / anticlockwise by a variable resistance (preset).
The H-Bridge 555 Timer Kit value of the preset is 10-kilo ohm and reduces the speed to zero when the preset is in mid-position. Depending on the position of the preset, the direction, as well as speed of the motor, can be controlled. The difference in voltage between two points of the motors defines the speed of the motor. If the difference becomes negative the direction gets changed.


Block Diagram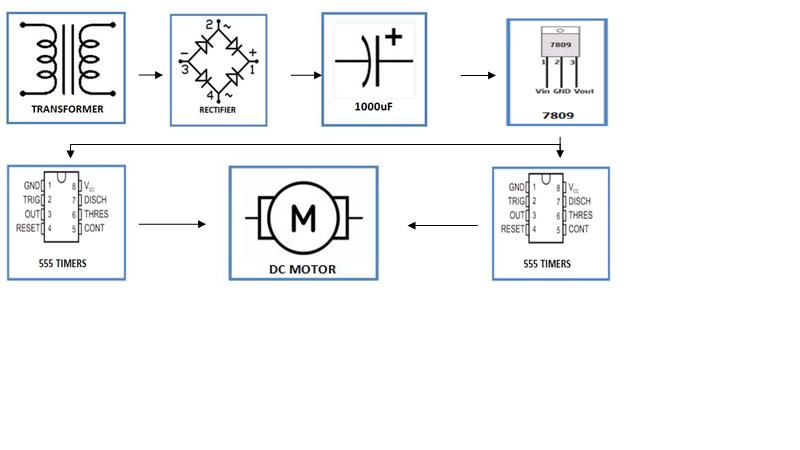 Physical Attributes
Dimensions (cm) L x W x H : 20 x 15 x 5
Weight (gm): 200
Product Video
practical knowledge
practical knowledge is the best part of electronic & Electrical
Quaility
Quality of the making project is look like a student .
Such a GREAT
Such a GREAT Ready to use kit, has a little bit of everything. Very well thought out.
Nice Job
they do a nice job with schematics , PCB layout, PPT, synopsis