Short - Circuit Protection
Short - Circuit Protection
Need Volume Discounts? Deals are specially designed for you. Click here
Need help with your idea. Provide us more details Click here
Warehouse Details - -


Specification
Description
We are going to design and study a simple, low voltage
Short-circuit Protection Circuit
for DC voltage. The circuit is designed to run a DC device safely and protect it from damage due to short-circuit in another part of the circuitry. A common example of short-circuiting is when the positive and negative terminals of a battery are connected with a low-resistance conductor, like a wire. In this condition, the battery can set to fire and can even explode. That's what happens with mobile batteries in mobiles many times.
To avoid this 
Short Circuit Condition
, Short-circuit Protection Circuit is used.
Short-circuit Protection Circuit will divert the flow of current or break the contact between the circuit and the power source. The working of the circuit is simple, when Green LED glows means the circuit is functioning normally and there is no risk of damage. The Red LED is expected to glow only when there is a short circuit. When the power supply is turned ON, transistor BC547 gets biased and starts conducting and the green LED gets turned ON.
During this time Red LED remains off as there is no
Short-circuit
. The glowing Green LED also indicates that the supply voltage and output voltage are approximately equal. In our stimulation circuit, we have generated a 'short' using a wire at the output. When the 'short' occurs the output voltage drops to 0V. This indicates that a short has been detected.

Block Diagram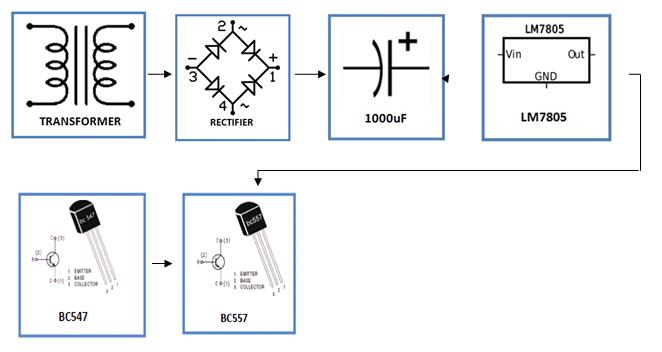 Physical Attributes
Dimensions (cm) L x W x H : 20 x 15 x 5
Weight (gm): 200
Product Video
Nice project
When together easily. The instructions were lackluster, but if you know anything about electronics, it's pretty easy to build.
YouTube videos
The instructions were missing but there are YouTube videos that explain how to build this kit. I bought it for my adult son who is learning how to solder.
its running
I Purchase Do it your self and after we (group member) are together solding testing and finaly running we are happy ..