Simple Water Level Indicator
Simple Water Level Indicator
Need Volume Discounts? Deals are specially designed for you. Click here
Need help with your idea. Provide us more details Click here
Warehouse Details - -


Specification
Description
Simple Water Level Indicator
Using Transistor
is easy to build four led for indication of levels in sequence also a buzzer is used to indicate overflow condition. To use this kit's attach the six wires or probes in the water tank at your desired level. The LED will light up when water will touch these six wires and then it will indicate the level of water (By lighting the LED one by one).
The 
Water Level Indicator
Kit c
onsisting of 6 sensing probes that are dipped in water to sense the level of water. Probe A is connected as common to the other five, which should be at the bottom-most part of the water tank, also act as a reference level. The probes B, C, D, E, and F are set as levels. Mount it inside your home with the indicator LEDs pointing out of the box. A short length five, wires can be used as sensing probes and for common sensor Probe A. When the water in the tank touches probes A and B both, a small current flows from A to B through water and to the base of transistor T1.
As a result, the
Water Level Indicator Kit's
transistor conduct causes the led D1 to glow. Similarly, when water touches sensor C, led D2 glow. Finally, when the water touches sensor F, the buzzer starts to beep which is indicated to overflow condition.
Block Diagram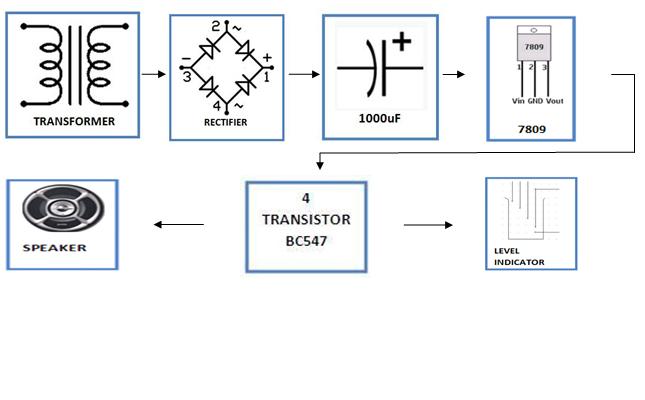 Physical Attributes
Dimensions (cm) L x W x H : 20 x 15 x 5
Weight (gm): 200
Product Video
All good
all good : the kit is very complete. It is neatly packed and comes with PDF descriptions and pictures of the various components
Having a blast! Very fun!
I think it would be fairly easy for just about about anyone.
very good
I bought this kit for my project collection